Akedah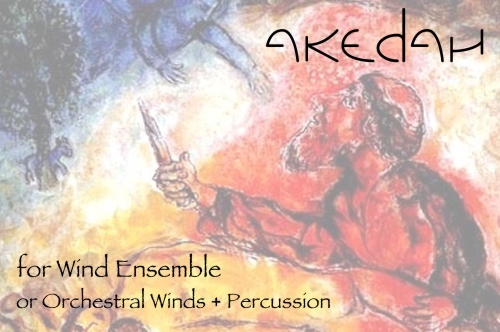 for Wind Ensemble or Orchestral Winds

It is said that the shortest distance between the mind and the heart is story. The power of story to teach, to shape, and to heal is evident throughout human history—as is the power of music to do the same. There is a narrative, as timeless as it is polarizing, that has been passed down from one of Earth's most ancient cultures—one of a father, a son, and a command from God. "Abraham, take your son Isaac—your only son, whom you love—and sacrifice him as a burnt offering on Mount Moriah." Abraham and Isaac's emotional and uncertain journey to Moriah, Abraham's resolve in the unspeakable moment he raised the knife, the divine intervention just before it plunged—these scenes and images remain with us, as unsettling as they are profound.

Akedah is an inherently dramatic multi-movement work designed to showcase a Wind Ensemble's ability to perform Sinfonietta-scale pieces. The piece stretches the dynamic spectrum, utilizing a range of extended techniques and orchestrational pyrotechnics.