Orpheus and the Sirens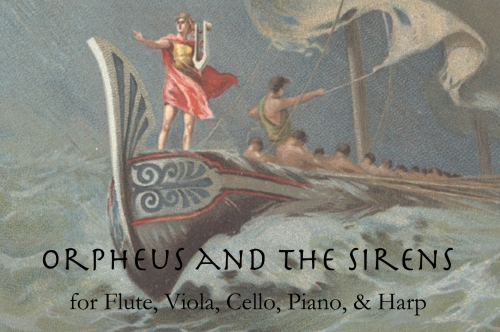 for Flute, Viola, Cello, Piano, & Harp

In Greek mythology, it is well known that the hero Odysseus had a brief encounter with creatures known as the Sirens—creatures who would enchant approaching sailors with their irresistible singing voices, driving them to crash their ships on jagged rocks in an attempt to reach the singers. Odysseus survived by plugging the ears of his sailors with beeswax so they could not hear their song. What is perhaps less known is that the legendary musician Orpheus had a much more dangerous encounter with the Sirens long before Odysseus had even been born. This piece depicts that tale, an episode from an epic made alive in music...

As the story features Orpheus as its hero, the piece extensively features the Harp (emblematic of Orpheus' signature instrument). This is a perfect piece to showcase a skilled Harpist's abilities!
| | |
| --- | --- |
| | Click to view video |