Among the Multitude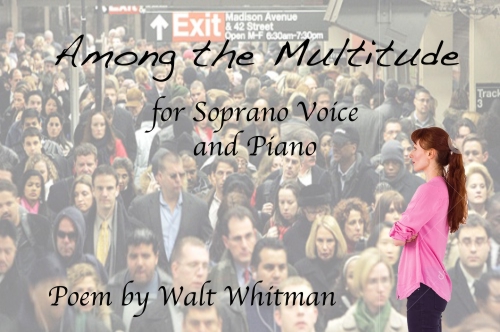 for Soprano Voice and Piano; poem by Walt Whitman

When choosing to set a poem to music as an art song, I knew from my Creative Writing studies in American Literature that there was one poem that demanded new life in music. It is a poem describing every person's inmost longing to seek and find the one person with whom they have a perfect connection and understanding.

In setting the original poem of the same name by Walt Whitman, I focused on the concept of finding one single, special person among a huge multitude of others. I illustrate this in the first line by presenting a dissonant cacophony of many "voices," resembling the chaos of a crowd. However, once the "one" appears as a character, all the other voices in the crowd fade away, leaving the speaker to exult in their unique connection. The speaker's reflections on her relationship with her "perfect equal" lead her through many emotions, from the greatest exultation and ecstasy to a final state of peaceful bliss.
| | |
| --- | --- |
| | Click to view video |