Kristallnacht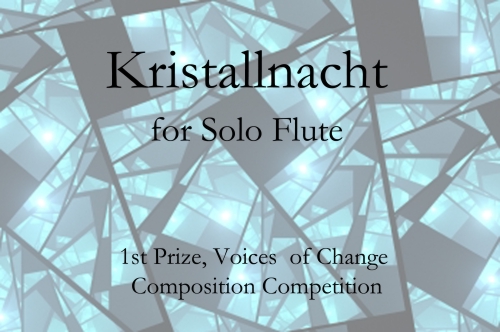 Received 1st Place in the Voices of Change Composition Competition (2015).

Program Note: Allow me to set the stage. The date is November 9, 1938. The air is cool, calm, and very still. Distant echoes of a Jewish chant, the Sh'ma, drift in like whispers on the coattails of the wind.

Suddenly, a scream shatters the silence. Sounds of breaking glass, running footfalls, and muffled gunshots pierce the night. Civilians, led by Nazi SS officers, had begun a series of attacks on Jewish residents and their families throughout Germany and Austria. Their victims were beaten, their property destroyed, and by the end of the night, 91 Jewish people had lost their lives.

Though mostly property was destroyed, this night was the inauguration of a much longer and more infamous persecution of the Jewish people, known to us as the Holocaust. As for this night, the broken glass littering the streets, like so many pieces of shattered crystal, earned the night the name it now bears—Kristallnacht.
| | |
| --- | --- |
| | Click to view video |