Pale Blue Dot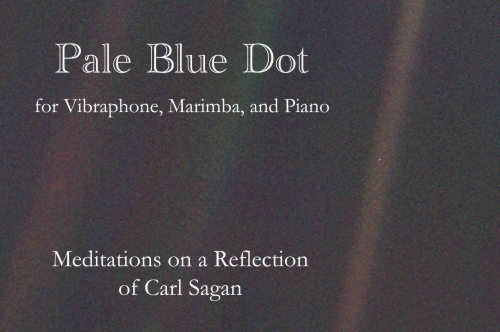 for Vibraphone, Marimba, and Piano

On Valentine's Day of 1990, NASA's space probe Voyager photographed a portrait of planet Earth, as if a love letter addressed to the billions of inhabitants of that blue planet. As the probe prepared to leave our solar system permanently, astronomer Carl Sagan sensed a historic moment and ordered Voyager to take a picture of Earth itself, giving humankind a window through which to gaze back at ourselves—to reflect, to introspect, to learn.

Just as the photo was taken, a ray of sunlight illuminated Earth like a spotlight. Though our infinitesimal size in the grand cosmos seems to render the whole of human history insignificant and meaningless, Earth is paradoxically unique. As the deep blue reflection of its life-giving waters imply, our home is the only world teeming with life, as far as we know. This candid image, then, is a rallying call for humanity to stand together, setting aside our conflicts and differences—to love and to cherish our home and one another as long as we live.
| | |
| --- | --- |
| | Click to view video |